Finally got out for my first ice fishing outing of Winter 2022. With some of my would be target lakes still sketchy with thin ice, I headed to a small lake I first fished last winter. Having started off 2021 with a decent largemouth bass I caught there, and then ending that outing with some big perch, I was hoping for some similar ice action today.
Got to the lake around 9:00 AM, and trekked out to the main basin. Started off jigging at a depth of 32 feet, drilling holes every few minutes, and gradually heading towards shallower water near shore. With 7 inches of ice, and almost no snow cover, drilling with my 6 inch Fin Bore auger was a breeze.
Unfortunately, 5.5 hours and 40 holes into the outing I still didn't manage to entice any bites, let along hook a fish. As evening rolled in coinciding with the peak of the major, I drilled my 41st hole. Saw a good mark shoot off the bottom as soon as I dropped my rattlebait down the hole. Vicious strike, and I finally had my first fish of 2022 on the line!
As I fought it up to the hole, I was surprised to see a Northern pike on the end of the line, as I didn't even know that they were present in the lake, nor was I expecting to hook any pike fishing in 18 feet of water. Thankfully, I managed to land the pike despite not having a leader, and the rattlebait being lodged deep in it's throat. I was very lucky it didn't cut my 6 lb fluorocarbon line.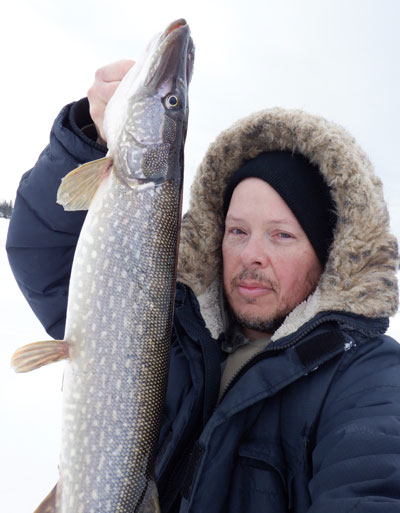 The last 9 holes of the day drilled nearby then proceeded to produce a few nice perch, including a couple jumbos.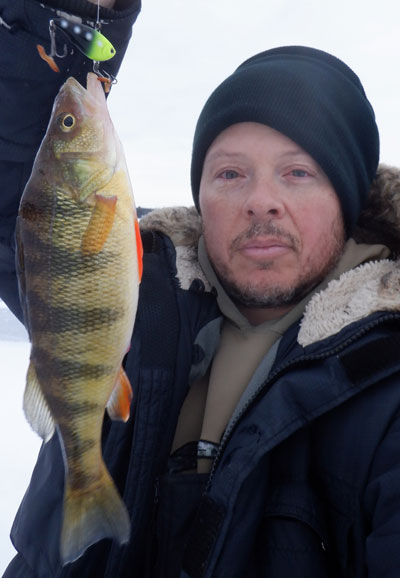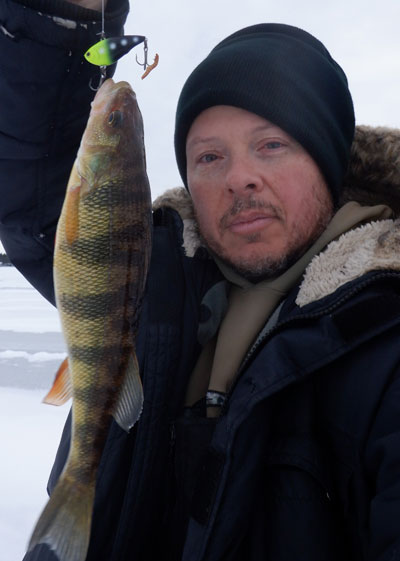 Needless to day, I was very happy with the way the day ended, after having struggled to locate fish throughout most of the day. Hope to get back out on ice again soon.