I've been lucky enough to have the time to try street fishing a number of times this season, after some success last fall. Stayed in biking shape throughout the winter, and now I enjoy the combination of getting a good workout and ride back and forth to and from my fishing spots. Any fish caught are a bonus, and give a greater sense of satisfaction.
I headed out last week to scout some of my spots for pike. I didn't find any, just some spawning bass that I left alone as the season is still closed. I did notice some schooling carp, so I decided to head back today to try to hook some before the weeds make it real tough to get them to bite in that spot.
What I didn't count on was the debris of dead leaves covering them bottom. At the slightest movement, my exposed hook got fouled up with dead leaves. With a slight wind and current, it made carping real tough. The carp did show up in decent numbers, though most were kind of small, but I did spot a couple good 30+ lbs carp. One of these big beasts stopped to feed right near were I was fishing, so I decided to try to feed it some corn and boilies. As I was doing so, my line took off, fish on!
Decent fight got the attention of some passerby, he stopped to check out the action. I landed the chunky carp, it weighed in at 17 lbs. Guy looked quite surprised to see a fish that size, he took the picture for me: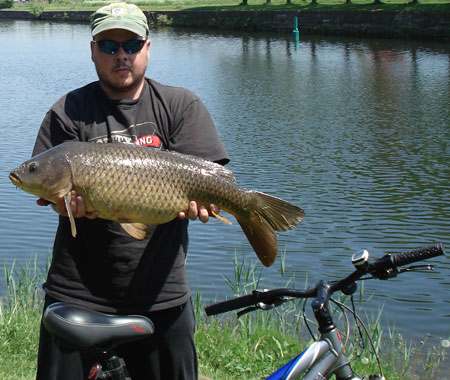 This is the first success I've had still fishing while out by bile, last season I spent my bike outings running and gunning for pike and musky. Place looks decent enough to try my spin and fly system for carp, stay tuned...