As I mentioned in my previous post, I'm spending some time away from carp fishing during the spawn. Was happy my friend Jimmy called to invite me to fish for trout. We headed South of the border to Northern New York state. The Saranac river flows through the Adirondack mountains. Very picturesque area, and great tout fishery, as the river is well stocked every spring. Besides, nothing like wading a cold river on a hot day.
We were a bit late in the season, most eater sized trout get fished out shortly after they are stocked. Still, there is always a chance to get some over the 12 inch slot limit, and possibly some bigger hold over that survive a few season without being caught.
First spot on the Saranac river didn't yield anything exciting. A few fallfish than hit my lure, and some more hit Jimmy's fly. I ended up catching a small rainbow trout, about 7-8 inches long.
Second spot on the Saranac river hade some small brown trout nipping at our lines, but no hookups.
Third spot spot on the Saranac river proved a bit better. Noticed some rising trout, and caught my first keeper of the day, a good 13 inch female with a nice belly on it.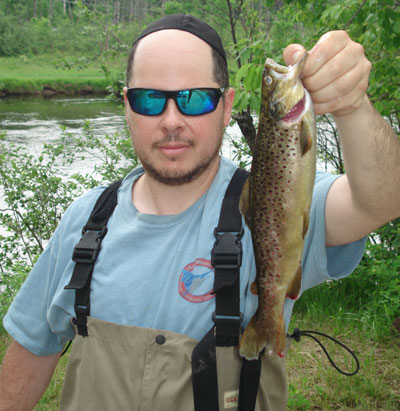 Caught a couple more brown trout there, as well as another small rainbow trout. All were under 9 inches.
The fourth and final spot spot on the Saranac river was saved for last, as it is typically the most productive. Water was a lot higher than normal, making fishing a bit tougher. Tried live worms for the first time on the outing, caught another few tiny rainbow trout, and a small brown trout. Eventually switched back to my lure, and landed another 12 inch keeper on my third cast. Followed up with a 10 inch trout a couple casts later. After a third trout within a few minutes, bite got tough again. Jimmy caught some tiny bass on a spinner, and a couple rainbow trout on the fly.
I ended up with about a dozen trout for the day, only 2 keepers over the minimum 12 inch slot limit.