Just got back from another trip to Le Domaine Shannon. After 2 trips in July and August to Lac Wahoo last summer, I decided to try it again in early June, as I had never been there during June in the past. With none of my boys being available to come along, I invited my long time friend Jimmy to come along. Luckily for me, he accepted my invite, and I was happy to have a top caliber fisherman such as Jimmy join me in chasing those elusive, trophy sized Northern pike.
After breaking camp on Sunday morning, we hit the lake around noon. Weather was unseasonably hot, near the 30 degrees C mark. Calm enough for topwater fishing, I tied on my trusted Zara spook. Sure enough, I hooked a couple fish in my first few casts, the second one being the larger of the two.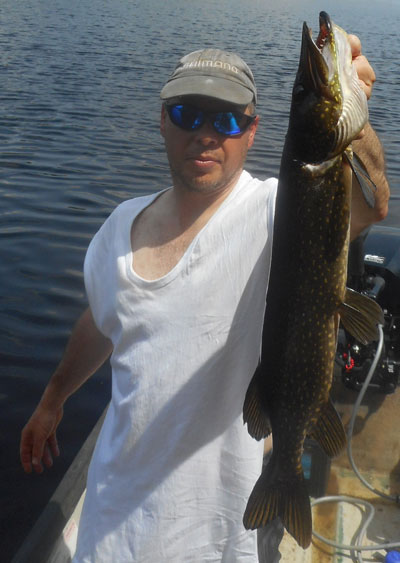 I was happy to have broken the ice, and surprised to have landed a pike that size so quickly, as Lac Wahoo is notorious for having crazy numbers of tiny pike. Sure enough, that was mainly what we caught for most of the afternoon, at which point point we headed to shore for a snack and break from fishing.
Before heading out on the lake for the evening bite, I took Jimmy to on of my shore fishing spots nearby. The spot has always paid off with some decent pike, and more recently with the occasional keeper sized walleyes that make for tasty shore lunches.
Sure enough, the spot paid off, and I hooked back to back pike, this one being the bigger ones of the two.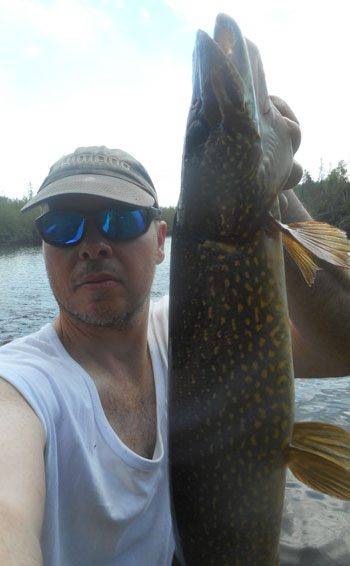 Unfortunately, the wind was way to strong to properly fish my evening topwater spot on the lake. We managed some more smaller pike casting spoons and spinnerbaits, before the hoards of nasty black flies chased us off the lake about 1/2 hour before dark.
The following morning, I woke up to winds blowing at gale force. Casting and boat control was very tough, so were spent much of the day trolling at various depths, none of which produced much. We managed a few very small fish casting in the few sheltered bays and creeks, but nothing exciting or consistent. No chance at topwater fishing all day, I hoped for better the following day.
I was up bright and early the following morning, and glad to see the wind had died down, the mirror like surface of the lake was exactly what I had hoped for. Headed to my prime topwater casting spot, Jimmy and I managed to get many hits on our surface lures, but many of them the closed mouthed hits that drove us insane. Still, we managed to hook one of 2 of every 10 hits, but none we of any interesting sizes.
After brunch, we fished my shore spot, and I was rewarded with the first walleye of the trip, which made for a tasty dinner.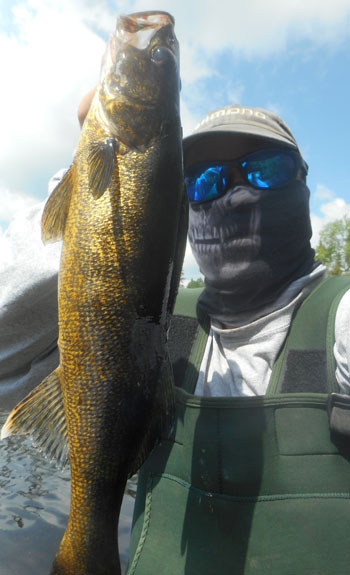 Back on the lake, we decided to visually troll the shoreline in 2-4 feet using spinnerbaits. Move paid off, we landed good numbers of small pike. Jimmy was wondering where the big ones were hiding, so when I landed this smaller one with some big gashes around the mid section, we knew we had been trolling the right depth.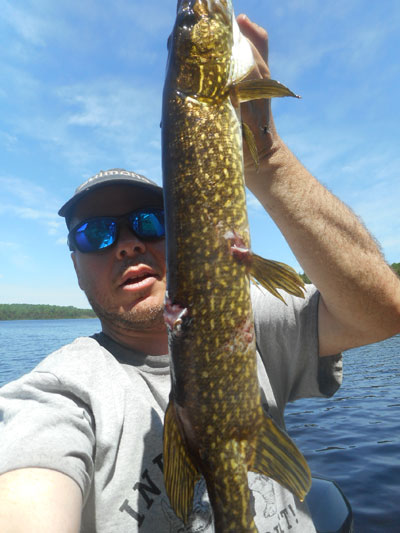 Again, nothing sizeable, but good numbers, about 35 pike landed throughout the day, despite the North wind piking up enough to ruin any chances at an evening topwater bite.
By Wednesday morning, a cold front had dropped the temperature significantly, we we out in our warmest clothing fishing in cold weather with strong North winds. Fish was OK, but sizes were smaller than ever, with baby pike hitting various 4-5 inches lures.

We nicknamed it "day of the dinks".
Finally, I hooked into a decent pike by mid afternoon, after being driven crazy by constant follows and nips at out lures without much hookups.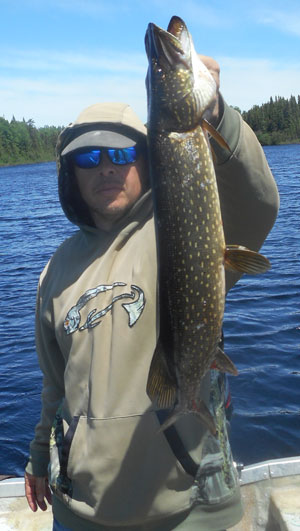 Jimmy eventually hooked into our first big pike of the trip, but unfortunately it came off just as he got it boatside. I didn't see it, but Jimmy was shocked at the pike's girth, as the big females in Lac Wahoo seem to have the largest girth ratios I've ever encountered.
Before heading out for the evening bite, I managed another keeper sized walleye fishing from shore.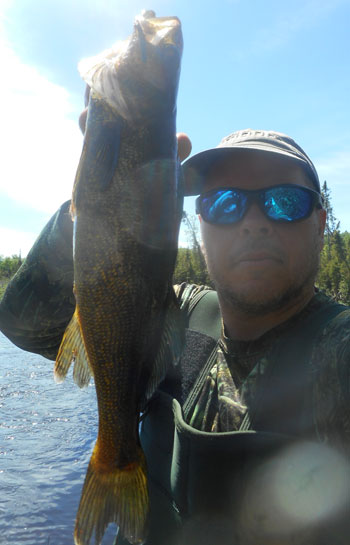 Luckily, the wind died down just in time for us to finally get a shot at casting some topwater lures in my evening hot spot. Jimmy managed to raise another good fish, but no hit.
Thursday morning was the coldest of the trip. Strong winds had us casting spinnerbaits and spoons, but fish were not cooperating much, we landed a couple smaller pike again. Finally, casting a spinnerbait on one of the last bays of the trip, Jimmy coerced a decent pike into hitting his lure. I netted his first keeper sized pike, and that was it for the trip. My camera seems to have malfunctioned, pic was kind of blurry...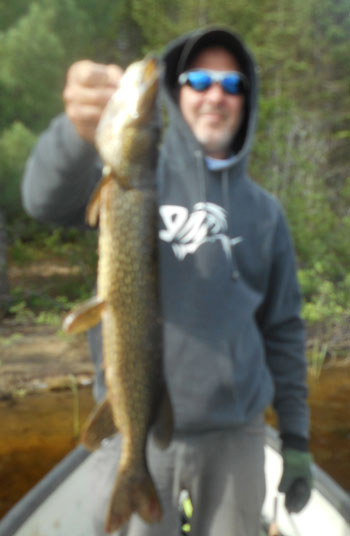 All in all, I was happy to have given Lac Wahoo a shot in June, as I have now fished it multiple times in May, many times in July, and once in August as well. May and July seem to have been most productive for pike overall, but my next trip to Le Domaine Shannon will likely be on a walleye lake.
For more information on booking a trip to Le Domaine Shannon, click: