Finally got back out onto the river with my friend and top notch multispecies fishing guide, Mark Currie. Brought along my son Levi, and his girlfriend Lindsey, who hadn't been fishing since she was a few years old. Goal was to get everyone onto some good walleye and bass fishing, with a decent shot at some of the other predatory species in the St Lawrence river system, such as pike, or perhaps a musky.
As Mark has been running Advanced Bassin plus charters for many decades now, I can confidently say that you'd be hard pressed to find anyone around Montreal with better fishing knowledge / experience of the Lac St Louis portion of the St Lawrence river. Despite being flat, calm, and midday temperatures going above 30C, I knew we'd be in for some great fishing due to Mark's expertise.
Getting to out first spot, drop shotting was an instant success. Levi drew first blood, with this nice walleye, slightly above the maximum slot size.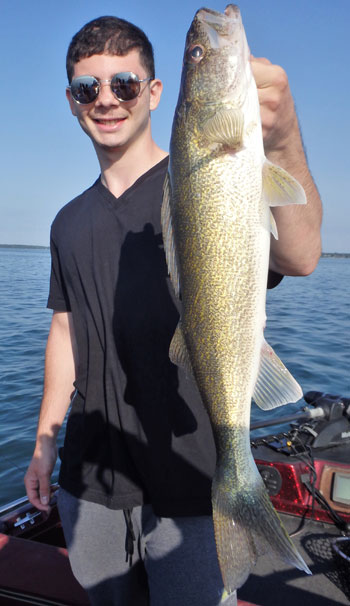 Levi and I followed up with some keeper sized walleye, and eventually, Lindsey got in on the action as well, thanks to Mark's constant coaching.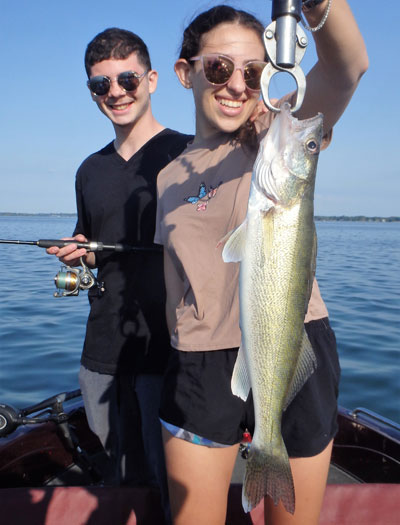 After some more keeper sized walleye in the livewell, Lindsey hooked into her first pike, which out up a nice battle, before we landed it. By far the biggest fish she's ever caught. Not wanting to shred her fingers, Levi stepped in to hold it for the picture.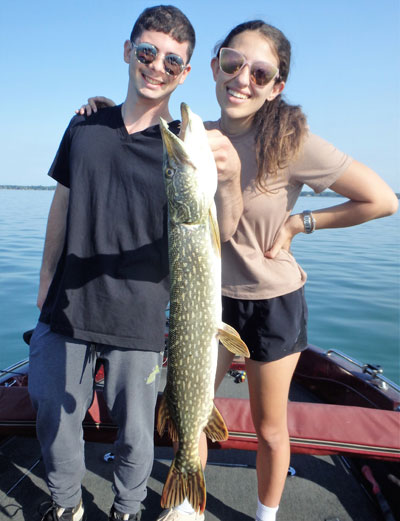 Lindsey managed another nice walleye.
I ended up with the biggest walleye of the morning, a nice 24-25 incher.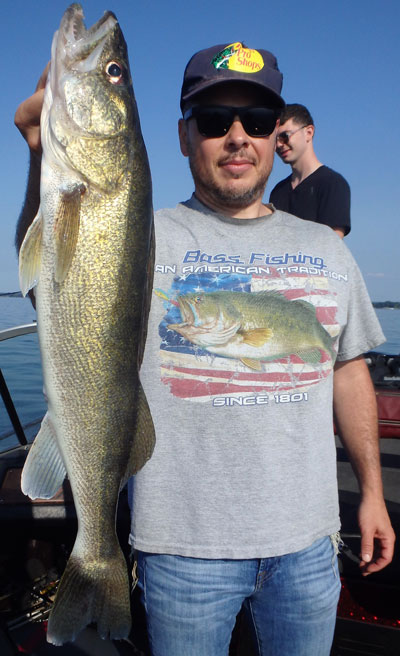 Levi followed up with a nice pike of his own.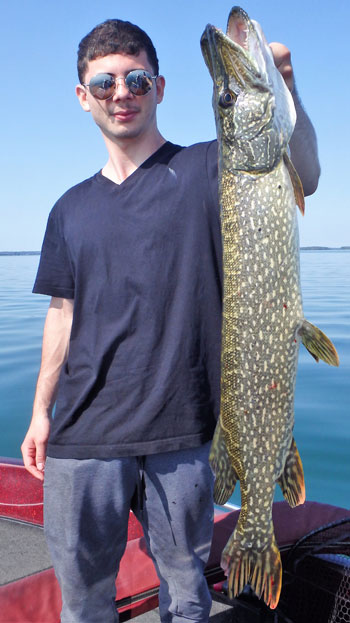 Lindsey managed a nice perch, and we ended of getting a triple header of walleye, though we forgot to take the pic of 3 of us with our fish caught simultaneously.
Last fish of the spot was a decent smallmouth bass I hooked into, first of the day up to that point.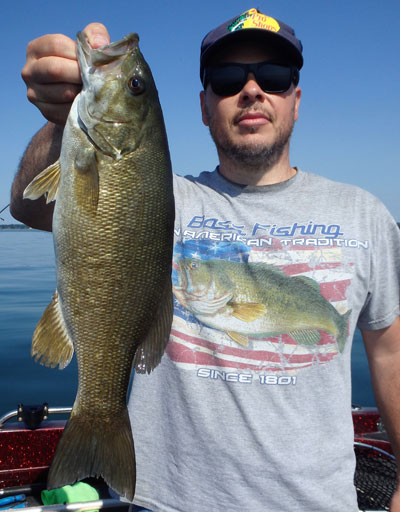 Next area we headed off to, was a shallower spot. We Mark, Levi and Lindsey sticking to texposed rubber worms, I opted to try getting some topwater action. Luckily, Mark had a PopR on board, so I fished it, despite strong current, and increasing wind.
Mark managed to land a good dozen or so smallmouth bass on the worm, and after a few missed hits on the Pop R, I managed to land a couple topwater smallmouth bass. Levi and Lindsey to a break to get in the river to cool off, and when Levi got back on board to start fishing, it didn't take long for him to complete his slam with a nice bass.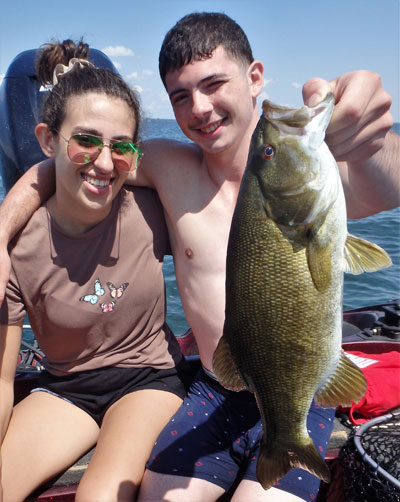 Eventually, the bite there died down, and we headed off to our last spot of the day. Drifting drop shot rigs, Lindsey caught her first bass, completing her multispecies slam as well. . Again, Levi stepped in to hold the fish, as she was still apprehensive about holding them.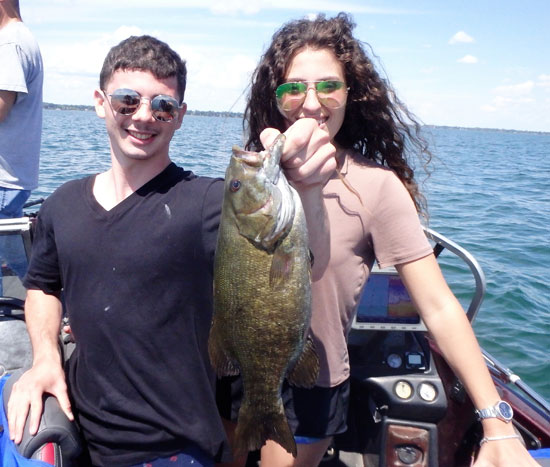 Lindsey start outfishing us by far, landing bass after bass, while Levi and I watched in amazement. She eventually agreed to hold one using a glove.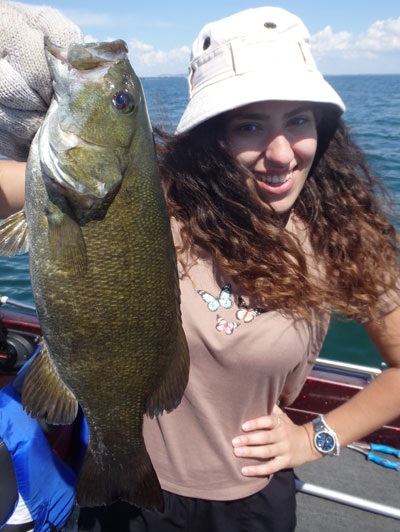 Levi and I eventually caught some as well, and finally Levi and Lindsey landed a double header.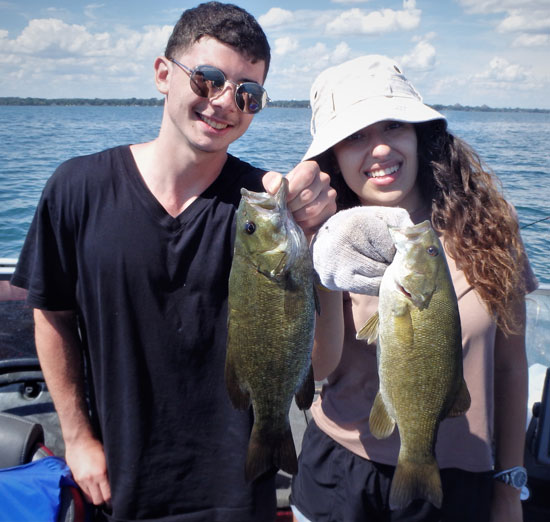 With not much time left in the outing, I finally hooked into the day's lunker, this nice bass in the 4 lbs range put up a good battle before we were able to net it. Snapped a couple pics with the day's trophy.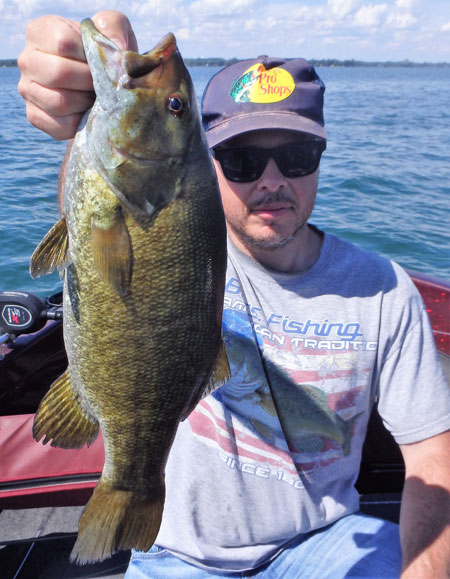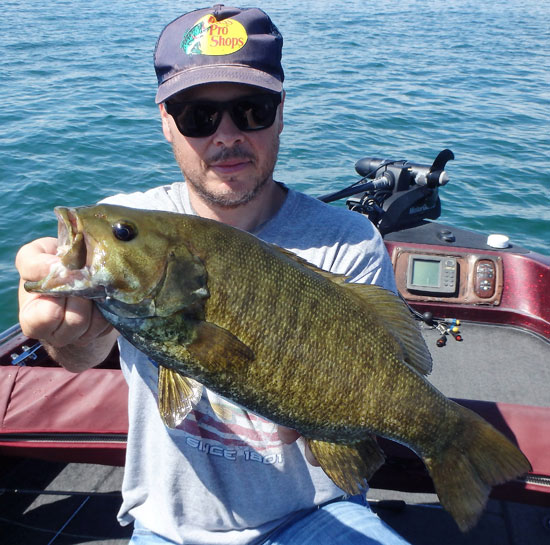 Between Lindsey's smashing success at her first fishing trip out on Lac St Louis, to her and Levi both managing the multispecies slam, and myself landing both the linker bass and walleye of the day, we couldn't have asked for better results. Pleasantly warm weather, and the usual trash talking followed by good laughs, enhanced the experience.
Many thanks again to my friend Mark for taking us out. As usual, his second to none experience came through big time, and a day where many other likely struggled to find any fish at all.
Mark offers guided outing from his 21 foot fully equipped Ranger, a top of the line vessel built to handle the roughest of conditions in comfort.
Contact Mark about a guided fishing trip by clicking: