With some real good weather in the forecast after the long, cold winter, I decided to have Levi attempt to catch his first pike. My other boys have all caught pike, Levi remained the only one that hadn't. At 9 years old, I figured it was about time.
Rented an old boat on the river, and mounted my 7.5 HP mercury. Though it's probably about 30 years old, it started up real easy, despite not being used in about 1 year, as I rarely rent boats any more.
We hit the water a bit after 9:00 AM. No wind, surface was almost mirror like most of the day. Great for navigating a big river like the St Lawrence, but less good for fishing pike, that seem to get finicky in gin clear water when there are no waves.
Plan was to troll some areas where I had success in the past, as well as some new spots I had in mind. Set Levi up with an XR10 Rapala X-rap, my self with a wally diver. Didn't take 3 minutes, Levi had his first pike: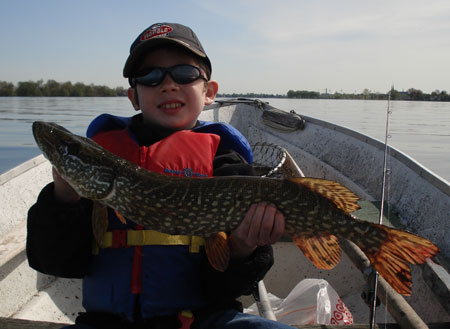 Needless to say he was thrilled. As we had drifted a bit in the current, we turned around and made another pass over the same spot. Sure enough, Levi hooked up again: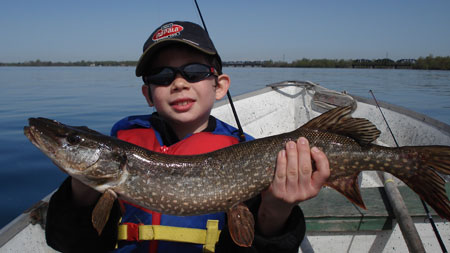 As my wally diver was cathcing some weeds, I switched to a CD-11 Rapala Countdown. Next pass, Levi hooked up to a nice smallmouth bass. Though we weren't targeting them as the bass season is still closed, I snapped a quick pic: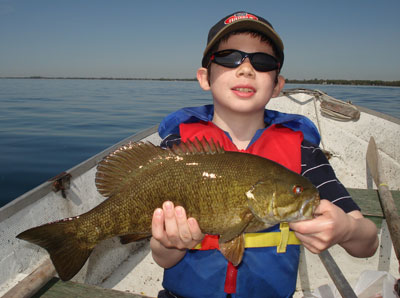 Over the next few passes, Levi stop hooking up, and I caught a few more bass. Not wanting to disrupt their spawning phase, I switched spots to try to put Levi onto more pike. After trolling a couple other spots
unsuccessfully, I finally put him onto another one .with a very distinct pattern / markings: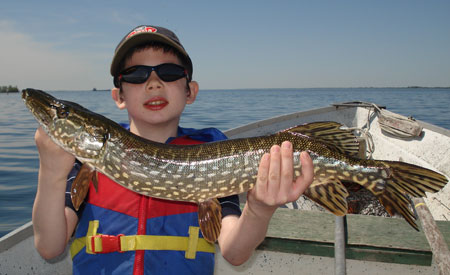 As I had to leave early, I headed back closer to the spot where I had picked up the boat, giving us more time to troll closer to that area. After a bit of trial and error, Levi had his fourth pike of the day: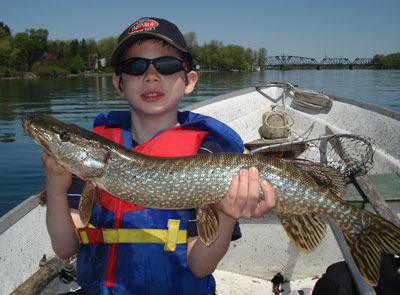 One the way back, I decided to try one last troll, Levi caught a real small one, we didn't bother taking a picture. Needless to say, he was thrilled with his first day of piking, and had much to brag about to his siblings when he got home.