It isn't often that we get to fish open water for carp in March around Montreal. During most years, we still have solid ice covering the shallow bays with little current, and I'm typically out on ice trying to catch the winter's last few pike with tip ups.
With the unbelievably warm winter we've had, I was able to both fish later last December than ever before, and now chase carp earlier than most season as well.
I headed off to my favorite spring spot, and brought Eli along for the outing. Plan was to fish a shallow bay where carp tend to congregate right after ice out, as the water warms up a bit quick than the rest of the surrounding area. Unfortunately, when we got to our spot, there were a couple people already trying to catch carp there. So much for my plans to practise my distance casting, which is a must at that spot.
Luckily for us, my next spot was only a few hundred yards away. I had brought along some shorter 8 foot rods as well, to make landing carp a bit easier on Eli, as he's still a bit small for my 12 foot rods used for distance casting.
Having 2 rods out, I was able to test various baits. After out first couple casts yielded nothing in the first 1.5 hours, I presented Eli with 5 different boilies that I made, explaining him the difference between each. I ask him to pick one as my hookbait, the other 4 were going on my PVA stringer as chum. He selected a 16MM fireball boilie, which has always been one of my best coldwater baits.
Sure enough, the Fireball boilie got hit within 1/2 hour. The fish ran a bit faster and fought a lot harder than expected in frigid water temp barely above freezing. Eli did a great job fight the fish, and I was a bit surprised it wasn't bigger when I landed it. Still a decent carp for this time of the year, just over 13 lbs.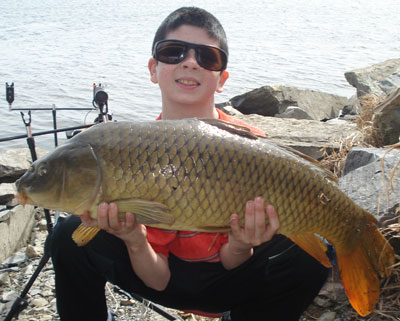 Eli chose the right bait for the job, and even baited the lines as I showed him how to bait hair rigs and tie PVA stringers. This catch marks the earliest open water carp we've caught, previous best was first week of April. He is now the proud holder of that new family record. That was the only carp we caught all day, no other hits or runs. With a cold front coming in next week, carping might be tough, so I may have to switch the target species if I get out on the water again soon.