As summer nears it's end, I took advantage of an open spot at Le Domaine Shannon on my favorite walleye lake, Lac LeNotre. Avi and I headed up to the Northern section of the lake, which is the first area I ever fished at Le Domaine Shannon in 2010. Avi was a bit young intense fishing in an extremely remote setting at the time, so his older brother Ari who was 14 years old at the time, went instead of him. Now that Avi is 14, he was only too happy to finally give walleye fishing in a remote forest setting a shot.
On our previous trip to Lac Lenotre 5 years ago, we did well trolling, jigging and drift fishing with bottom bouncers. Wind and rain seemed to be the key to good walleye fishing at the time, and we expected much of the same this time around.
Day 1:
We arrived at the main lodge at 7:00 aM on Sunday morning, after driving through most of the night. By the time we got to our remote cabin, broke camp and set up the boat and fishing gear, and finished breakfast, it was close to 10:00 AM.
The sun was shining bright and strong, temperature shot up from 6 degrees that morning, to 28 degrees shortly after lunch time. No wind at all either, fishing was dismal. We weren't able to locate any schools of feeding walleye to try vertical jigging, and trolling deep or shallow wasn't productive either.
At 4:30 PM, we still had not had a bite all day. At this point, I tied on a new prototype of a lure that I was given to test out, namely, the Bite Booster lure. I set it up onto my line to troll in 20-25 feet of water, and within 30 seconds of casting it out, we had out first hit. Avi fought the fish, and it turned out to be a small pike. Very welcome catch, despite not being the target species.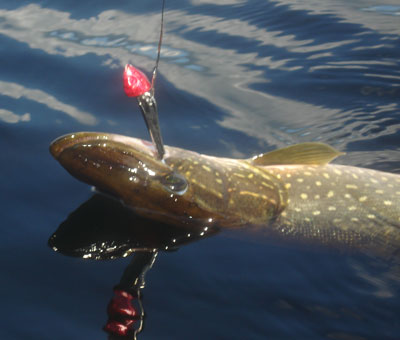 As evening rolled in, we eventually caught a few small walleye drifting bottom bouncers with live worms, but one one keeper in the slot limit: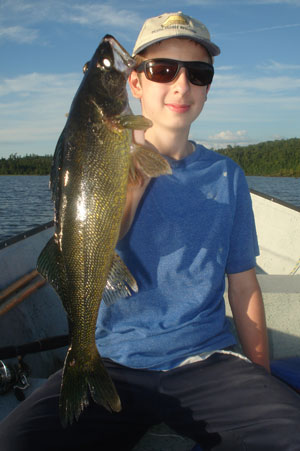 Day 2:
The day started off as we hoped it would, a mix of sun and cloud with a nice South wind blowing strong enough to give us a perfect drift over our most productive areas. Avi and I landed 7 more walleye drift fishing. One was over the slot limit at about 3.5 lbs: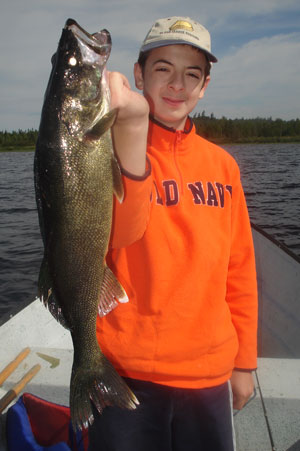 The others were mainly smaller ones, with a few keepers: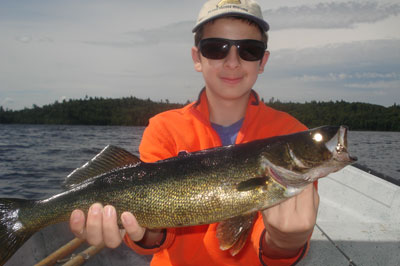 We headed back to the cabin for early lunch, hoping the bite would get better as the day went on...
After lunch, the wind direction changed, and was blowing from the West. This put us drifting over steeper inclines for a much shorter distances, which made the fishing rather tough. After a few drifts, I decided to try using the versatile Bite Booster lure as my bottom bouncer / flasher spoon. I tied a 3.5 foot fluorocarbon leader to it, replacing it's treble hook, followed by a #4 bait holder hook tipped with a big nightcrawler. The wind was string enough to give the lure some action while drifting, and on the the second pass, I thought I had snagged bottom, until I felt the telltale head shakes of a bigger fish.
The big walleye put up a very nice fight, peeling drag from the reel on a couple occasions, quite rare for that to happen when walleye fishing. When I finally landed it, I knew it was closed to beating my personal best. I measured it at 27 inches, only 1/2 inch off my biggest ever. However, it was a bit thin, only weighed in slightly above 5 1/2 lbs. Still a great catch, and very nice blue back like most of the walleyes we catch on Lac LeNotre. Having caught it on the modified Bite Booster lure made it even sweeter.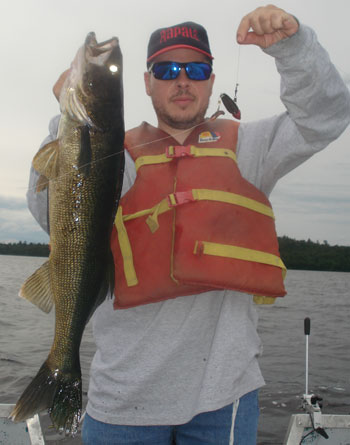 Unfortunately, the wind died down completely, and we weren't able to drift any more. After a couple hours, we decided to try trolling shallower for pike, but all we managed was a tiny walleye almost the size of the lure.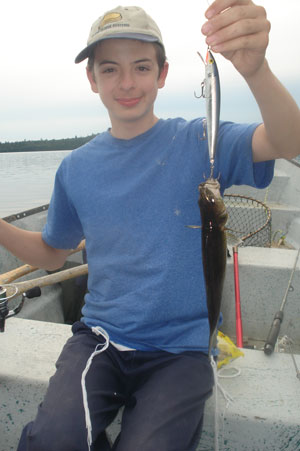 We headed back to the cabin to cook up some of our catches, which included a big perch that was throat hooked on one of our earlier drifts.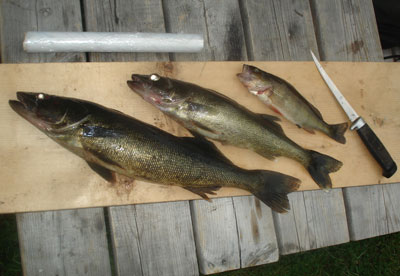 And the delicious result: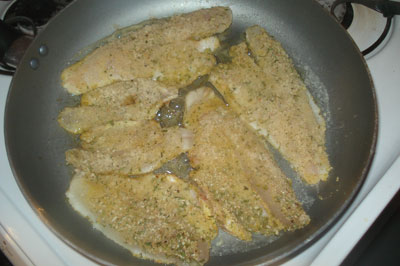 Day 3:
Another sunny, windless day, fishing extremely slow. We finally managed a few walleye drift fishing. As we explored new areas of the lake, we crossed paths with a black bear swimming in the lake, first time Avi has ever seen a bear in the wild. I shot some footage:
And a shot of trolling back to the cabin at sunset: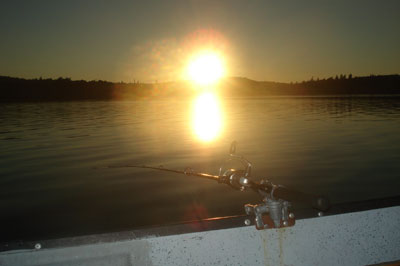 Day 4: Another windy day, west wind worked wonders. After I caught out first few walleyes on the modified Bite Booster rig, Avi decided to use the the second Bite Booster I had, as he hates being out fished by his dad.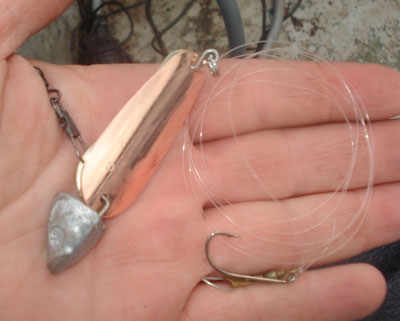 Weather was cold and rainy, but we didn't care as the fish were biting: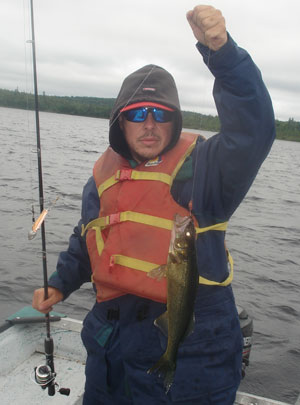 After lunch, it only got colder, we were in our winter clothes, remembering the shorts and t-shirts we fished in a couple days earlier. But fishing only got better, we caught 5 more keeper sized walleye: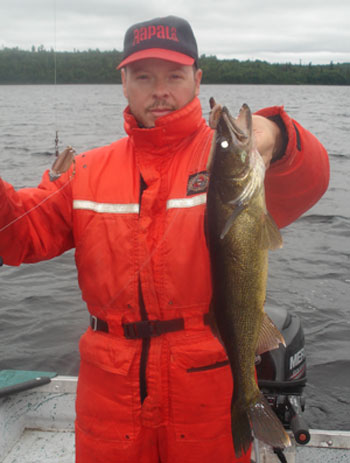 Most had a nice, blue colored backs and dorsal fins: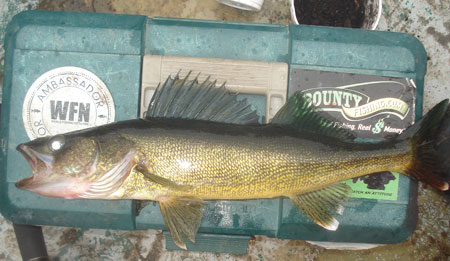 To say the least, the Bite Booster lure rigged for drift fishing had saved the day: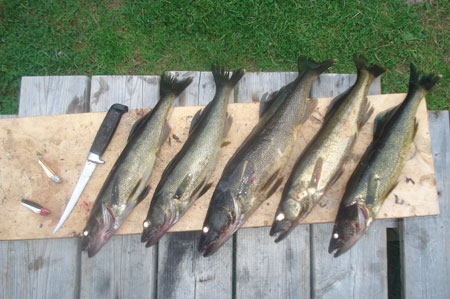 Day 5:
We only had a few hours to fish, and we disappointed to get out onto the lake that was calm and flat. When the wind picked up for a short 15 minutes, we managed another small walleye. We called it a day shortly before noon, and headed back to town.
Le Domaine Shannon now has a luxury cabin on Lac Lenotre. In contrast to the smaller sized, propane powered cabins, this one has 6 double beds, and is solar powered, and brand new. I hope to make it back with more of my kids next summer, now that I know that this sort of luxury is available there, they won't need to "rough it" any more. Contact them to book your trip by clicking:
http://freshwaterphil.com/ledomaineshannon.cfm
The patented Bite Booster lures should be available at select tackle shops in the near future. I'm lucky enough to have a couple to test. Although the models I have are suited for deeper water, they are coming out with some shallower water models as well, which I'll be very happy to test for some big fall time bass. Details to follow...